Shadow Brokers leak trove of NSA hacking tools
The tools were dumped via the Shadow Brokers Twitter account and were accompanied by a blog post, as the group did in the past.
Called "Lost in Translation," the blog post contains the usual indecipherable ramblings the Shadow Brokers have published in the past, and a link to a Yandex Disk file storage repo.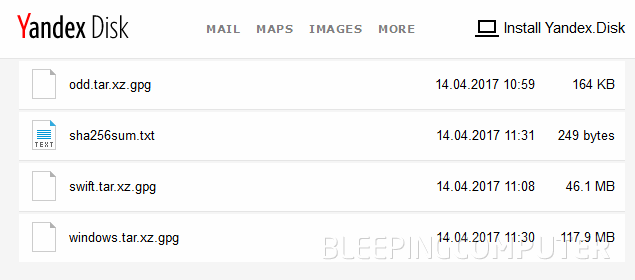 The password for these files is "
Reeeeeeeeeeeeeee
", and they've already been unzipped and hosted
on GitHub
by security researchers.
Exploits
EARLYSHOVEL

RedHat 7.0 - 7.1 Sendmail 8.11.x exploit

EBBISLAND (EBBSHAVE)

root RCE via RPC XDR overflow in Solaris 6, 7, 8, 9 & 10 (possibly newer) both SPARC and x86.

ECHOWRECKER

remote Samba 3.0.x Linux exploit.

EASYBEE

appears to be an MDaemon email server vulnerability

EASYPI

is an IBM Lotus Notes exploit that gets detected as Stuxnet

EWOKFRENZY

is an exploit for IBM Lotus Domino 6.5.4 & 7.0.2

EXPLODINGCAN

is an IIS 6.0 exploit that creates a remote backdoor

ETERNALROMANCE

is a SMB1 exploit over TCP port 445 which targets XP, 2003, Vista, 7, Windows 8, 2008, 2008 R2, and gives SYSTEM privileges (MS17-010)

EDUCATEDSCHOLAR

is a SMB exploit (MS09-050)

EMERALDTHREAD

is a SMB exploit for Windows XP and Server 2003 (MS10-061)

EMPHASISMINE

is a remote IMAP exploit for IBM Lotus Domino 6.6.4 to 8.5.2

ENGLISHMANSDENTIST

sets Outlook Exchange WebAccess rules to trigger executable code on the client's side to send an email to other users

EPICHERO

0-day exploit (RCE) for Avaya Call Server

ERRATICGOPHER

is a SMBv1 exploit targeting Windows XP and Server 2003

ETERNALSYNERGY

is a SMBv3 remote code execution flaw for Windows 8 and Server 2012 SP0 (MS17-010)

ETERNALBLUE is

a SMBv2 exploit for Windows 7 SP1 (MS17-010)

ETERNALCHAMPION

is a SMBv1 exploit

ESKIMOROLL

is a Kerberos exploit targeting 2000, 2003, 2008 and 2008 R2 domain controllers

ESTEEMAUDIT

is an RDP exploit and backdoor for Windows Server 2003

ECLIPSEDWING

is an RCE exploit for the Server service in Windows Server 2008 and later (MS08-067)

ETRE

is an exploit for IMail 8.10 to 8.22

FUZZBUNCH

is an exploit framework, similar to MetaSploit

ODDJOB

is an implant builder and C&C server that can deliver exploits for Windows 2000 and later, also not detected by any AV vendors
Utilities
PASSFREELY

utility which "Bypasses authentication for Oracle servers"

SMBTOUCH

check if the target is vulnerable to samba exploits like ETERNALSYNERGY, ETERNALBLUE, ETERNALROMANCE

ERRATICGOPHERTOUCH

Check if the target is running some RPC

IISTOUCH

check if the running IIS version is vulnerable

RPCOUTCH

get info about windows via RPC

DOPU

used to connect to machines exploited by ETERNALCHAMPIONS